Specials include our delicious 50 Item Soup and Salad Bar!

Daily Specials
Tuesday - Spaghetti Thursday - Lasagna Friday - Fish Fry Saturday - All You Can Eat Chicken, Pasta, Pizza Buffet! 4pm - 9pm Sunday - Broasted Chicken

Big Kahuna Challenge
$200 Reward for completing the challenge!
Contestant will have 1 hour to eat a 20 inch Big Kahuna
Contest starts when pizza is placed on the table
Contest will take place inside of Giada's Lounge
Pizza will consist of sauce, cheese, and either 1 meat or 2 veggie toppings.
Only water will be served during the contest
Entry Fee (including pizza) is $35.99 + tax

Contestants must be 18+ to attempt challenge and must sign a waiver. Friends and family are not allowed to sit at the same table as contestant. No use of a garbage can during the contest (Asking is considered usage). Contestant must remain at the table for the duration of the contest. Previous winners are prohibited from competing again. I understand all conditions are met within 1 hour, a picture will be taken for our "Wall of Fame". Reward is redeemable 2 weeks after challenge is completed.

Tuesday's Wine Time
1/2 Price Wine - ALL WINE!
*Restaurant Wide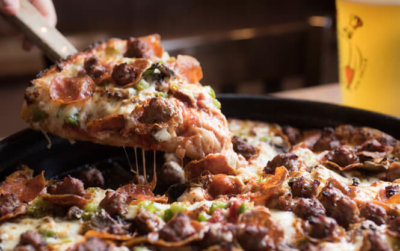 Wednesday's Pizza & Beer
$10
12" Thin, 2 Topping Pizza* & a 16 oz. Domestic Draft.
*Upgrade to Specialty Pizza for $2 More. Only in Giada's at Pizza Pub.

Thursday & Sunday's Half Apps
1/2 PRICE Appetizers*
*Only in Giada's at Pizza Pub.